Guided Smile Concept:
Minimally Invasive Digital Smile Design
for
Same Day 3D Printed / Milled Veneers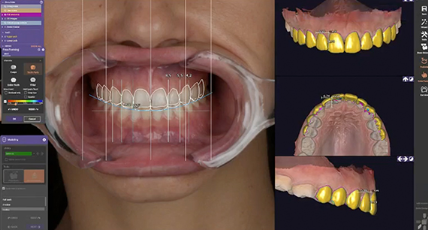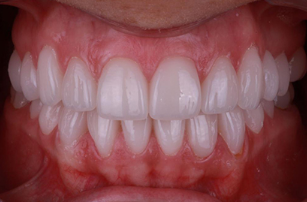 2D & 3D Facially Driven
Digital Smile Design and Tooth Library Planning for Composite and Ceramic Veneers
ONLINE COURSE & 2 DAY HANDS ON TRAINING
This enrolment is for;

LONDON - 128 Harley Street
9/10 JUNE 2023
AVAILABLE

Cost;
£1500 for 2 days
Includes Smile Creator Dongle worth £995
(Bring an auxiliary for £500 - contact us via info@idda.org)

DO YOU WANT TO OFFER SAME DAY VENEERS? THIS COURSE WILL GUIDE YOU ON A NEW, CUTTING EDGE, MINIMALLY INVASIVE, GUIDED APPROACH TO PREPS WITH THE POTENTIAL TO 3D PRINT OR MILL VENEERS IN ADVANCE FOR DIRECT FIT.


Email us to learn more: info@digitaldentalacademy.co.uk
BECOME A CERTIFIED GSC (TM) DENTAL SURGEON
We would like to introduce you to Guided Smile Design.
Rather than conventional digital smile design - that invariably involves a singular step in the planning process, we would like to introduce you to the result of the members of International Digital Dental Academy's digital masters development, an in depth process that will revolutionise the smile design pathway.
The NEXT evolution in smile design.
Just as Guided Implant Surgery involves prosthetically planning the implant surgery - ie planning the final position prior to placement - Guided Smile Design aims to make the entire process guided with the end result planned prior to even the prep of the teeth.
The disadvantage of the conventional single step smile design is the risk of loss of information and failure to achieve a planned result from 2D or even 3D.
With Guided Smile Design - or GSD - the patient's new smile is planned incorporating existing principles but by using a common pathway we can predictably maintain the planning.
The GSD steps include using a common tooth library through each;
1) 2D Smile Design
2) 2D to 3D Smile Design through facial analysis.
3) Live Test Drive
4) Guided prep
5) CAD Copy of mock-up
6) CAM manufacture & Recreation of natural surface texture
This six step process can be OPEN and utilise any software that incorporates the same tooth libraries. It can even incorporate Mesh-mixer through the IDDA Mesh-mixer tooth libraries.
What is the benefit of this?


The main benefit of GSD is that the patient, the dentist AND the technician can all be on the same wavelength and understand limitations from the very start of the Guided Smile Design process.
The new Guided Smile Concept workflow and where you will succeed after the course;
Instead of the usual lab prescription, delivery then fit, we want to make this process more interactive so that you can provide not only a more streamlined and cost effective workflow for your practice expenses, but also involve YOU in the design process.
We realise that the majority of dentists - digitally scanning or otherwise - are conflicted between wanting to involve themselves more with CAD and having the time or skill to do this.


This is where the Guided Smile Concept added with Exocad smile creator will come in and how it will be different to any other smile design workflow.


You will scan, then use Smile Creator to mockup your tooth/teeth/smile design, and then design in house OR pass this on to our lab techs through exocad dental share who will then finish the cad design according to what you and the patient have shown/designed.


Of course with this new workflow you won't HAVE to use smile creator. If youre in a rush, simply scan and send for cad design. But we think with our support you'll be using smile creator on a regular basis.
The benefit to you as a clinician is that you can then show the patient this mockup at the point of scan, quickly and easily, to give them a better consent process without having to worry about fit, contact points, occlusal adjustments etc. All of those finer details our lab techs will sort out.


Marking margins, insertion axis, cad design… we do the difficult work but you can show and WOW the patient with the mockup phase to really connect with how the patient wants his or her teeth to look. Tooth library shapes, etc all easily chosen with the patient at hand.
This will be open to designs from single teeth to full arch smile design.
This design stage will then come back to you giving you the option to mill in house, mill with us or mill externally.
We can even send you back printed model mockups ready for composite bonding or trial smiles.
If it hasn't become apparent, we think this will be revolutionary for you in the same way that clincheck is good for orthodontics with an Itero. You show the patient an estimated look but you dont do any of the work in production.
This process will act as a sales tool as well as improving your patient discussion and consent.
It will also mean that you can improve the predictability in practice in providing restorations that more closely resemble the initial mockup/trial smile.
The other added benefit to smile creator, is the ability to output the designs to print directly with a printer in tooth colour for same day trial smiles without even sending back to us.
idda course
Here is what you will cover with this course
Same day 3D Printed Mockups OR Permanent Restorations
Beautiful and Predictable mockups
Take your smile design to the next level with the ultimate copy paste workflow
Highlights
FREE IDDA Surface Texture CAD Finishing Kit

Interactive Video Tutorials

Online Course & 2 Day Hands on Training
Learn by Example
All four of our Professors are committed to assisting you with your Digital Dental journey.

We are leaders in the field and we look forward to answering your questions and helping you obtain your Diploma in Digital Dentistry.


Learn What's Important
ALL of our courses include;
Online Remote Learning Content on our interactive, well rated learning platform.

Verifiable CPD / CE Credits.

Optional Hands On Days.

Course On-The-Go access with IDDA Courses App on the app stores.
The courses, just like this one cover a wide range of topics from Smile Design, Cerec, in house Ortho and more!

Prof Adam Nulty
BChD MJDF RCS Eng PGCert MSc (Dist) MAcadMed
The Digital Dental Academy
WELCOME TO THE FUTURE OF DENTISTRY
I am delighted you have chosen to start your journey into Digital Dentistry with this course provided by the Digital Dental Academy, the UK's premier independent teaching provider for digital dentistry.

As a new student to the Digital Dental Academy you will have the opportunity for new experiences whilst developing skills to give you the best chance of succeeding in this ever evolving speciality. I founded the DDA with Chris Lefkaditis, Patrik Zachrisson and Quintus Van Tonder to elevate the standard of knowledge in Digital Dentistry in both the UK and abroad with an unbiased and informative approach utilising the best talent in this field from across the world.

On behalf of myself, Chris, Patrik and Quintus, we look forward to meeting you and wish you the very best of luck in your studies.

Yours sincerely,

2 DAYS OF INTENSE HANDS ON TRAINING
Plus Online Supplementary Lectures
Morning
✔ Lecture on Guided
Smile Concept
- Quintus & Adam
✔ Overview of digital
smile design and
Guided Smile Concept
✔ Hands On - Smile
Designer Pro
- Quintus
✔ Hands On - Meshmixer
Mockups - Chris
✔ Start of Patient Journey
- Before Video &
Photography
Lunch
Afternoon
✔ Patient Journey -
Minimal Veneer Preps
✔ Lecture on Minimally
Invasive Prepping
- Patrik
✔ Hands On - Making &
Using Mockups Stents
For Patient Test Drives
- Adam
✔ Patient Journey -
Before/After Videos
With Test Drive
✔ Demo - Scanning
Protocol of IDDA
Aesthetic Digital
Face Bow
✔ Alignment of 3D Face
Scans and Models in
Meshlab - Adam
Morning
✔ Patient Journey -
Designing Veneer
Case on Cerec 5.1.2
✔ Hands On -
Smile Design
Using Mockup
Models - Adam
✔ (Plus if time) Hands On
- Smile Design Using
Mockup STLs in
ExoCAD - Quintus
✔ Patient Journey -
Manufacturing
Restorations
Lunch
Afternoon
✔ Patient Journey -
Finishing Restorations
And Fit of Restorations
✔ Lecture On Mastering
Surface Texture
- Quintus
✔ Hands On Mastering
Lithium Disilicate
Surface Texture - All
✔ Lecture On Cementation
& Limitations - Chris
✔ Lecture On Patient
Marketing & Videography
- Adam
Course Structure
COURSE CONTENTS

Guided Smile Concept - Digital Smile Design
MEET YOUR INSTRUCTOR
Adam Nulty
Adam is the Principal Dentist and owner of "Dentist On The Rock" in Bury. He is a Cosmetic & Digital Dentist at Digital Smile Studio on Harley Street, London and one of the Executive Board members of The IDDA.
MEET YOUR INSTRUCTOR
Patrik Zachrisson
Patrik is the Principal Dentist and owner of "The Wensleydale Dental Practice" in George St, Huntingdon. He is a Cosmetic & Digital Dentist at Digital Smile Studio on Harley Street, London and one of the Executive Board members of The IDDA.
MEET YOUR INSTRUCTOR
Chris Lefkaditis
Chris is the Clinical Director, Principal Dental Surgeon and owner of "Hellesdon Dental Care" in Norwich. He is a Cosmetic & Digital Dentist at Digital Smile Studio on Harley Street, London and one of the Executive Board members of The IDDA.
MEET YOUR INSTRUCTOR
Quintus Van Tonder
Quintus is the Principal Dentist and owner of the "Zandielle Clinic" in Queens Square, Attleborough. He is a Cosmetic & Digital Dentist at Digital Smile Studio on Harley Street, London and one of the Executive Board members of The IDDA.
\Learnworlds\Codeneurons\Pages\ZoneRenderers\CourseCards